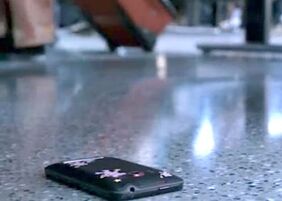 Simon's Phone is a recurring object in Touch. It is a black phone with pink teddy bear stickers on the back of it. The phone originally belonged to Simon Plimpton, which turned up in a Lost and Found box at the airport where Martin Bohm worked as a baggage handler. Simon wanted the phone back in order to receive pictures of his deceased daughter. Martin gets distracted by a phone call about Jake, and the phone continues to move through the conveyer belt where it continues to pop up in other countries. Throughout the series, many people from all over the world record videos of various things, some important to the series, and is passed on to other people.
Ad blocker interference detected!
Wikia is a free-to-use site that makes money from advertising. We have a modified experience for viewers using ad blockers

Wikia is not accessible if you've made further modifications. Remove the custom ad blocker rule(s) and the page will load as expected.